: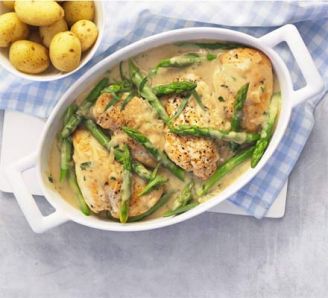 Print Recipe
Creamy Chicken and Asparagus
Ingredients
4 skinless chicken thighs halved
1 tbsp sunflower oil or rice bran oil or low GM canola oil
1 Leek sliced (white part only)
1 garlic clove, crushed
350ml Home made chicken stock
1/4 teaspoon citric acid
1 bunch of Asparagus stem trimmed
3 tbsp of sour cream 
Instructions
1

Heat the oil in a large non-stick frying pan. Gently fry the leek for 5 minutes and the chicken and garllic and fry for another  5 mins until chicken until browned.

2

Pour over the stock and add citric acid. Cook for 5 mins, then turn the chicken, add the asparagus and cook for 3 mins more.
Notes
Inspired by recipe found at BBC good foods - source of picture.