Persimmon (S)
Persimmons can moderate to higher salicylates but are low amine and glutamate.
Persimmon is a fruit that can be eaten raw, tossed in salads or served alongside meat, chicken and fish dishes. They are a good source of vitamin C and contain dietary fibre. They also contain Vitamin A and minerals.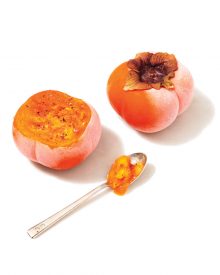 You can eat persimmons crunchy like an apple, or scoop out the flesh when they are softer if you wish. A softer persimmon can be frozen to make a 1 ingredient persimmon custard dessert. Once frozen cut the top off and cut out the flesh.

« Back to Glossary Index
Related Posts