Leek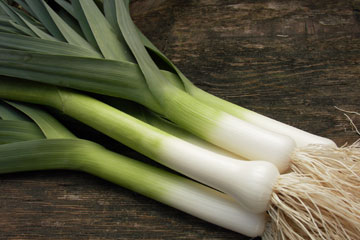 Leeks are low chemical (ie low salicylate, amine and glutamates).
Leeks are a beautiful and nutritious member of the onion family. With their sweet, mild taste, they can be eaten raw in salads or cooked in a variety of ways, adding depth and richness to soups, stews, and many other recipes
Leeks contain notable quantities of vitamins A and K, along with healthy amounts of B Vitamins, folic acid, niacin, riboflavin, magnesium, and thiamin.
Leeks also provide a concentrated source of antioxidants, even when compared to other antioxidant-rich foods. For instance, leeks have a total polyphenol content (TPC) of 33 milligrams per 100 grams of fresh edible portion. By comparison, red bell peppers' TPC is 27 milligrams and carrots' 10 milligrams.7

« Back to Glossary Index
Related Posts