Garlic Mayo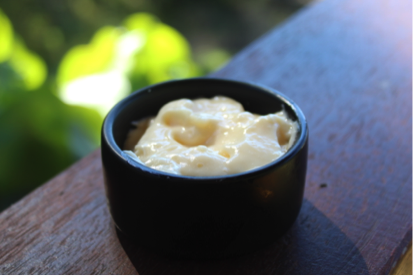 Will keep in the fridge and can be used for up to 4 days.
METHOD

Step 1
Process garlic, salt and egg yolks in the small bowl of a food processor until well combined. Or you can place in a bowl and combine with hand mixer using a beater attachment.
Step 2
Put oil in a jug with a lip. Slowly add oil. Start by putting in a drop at a time, once some emulsion has occurred add around 3/4 of the oil in a slow drizzle.
Step 3
Add the water and citric acid to give a slight tangy flavour and lighten mixture. Then add the remaining oil in a slow drizzle (as before) and continue processing to form a thick mayonnaise.
Note 1: if you put the oil in too quickly (particularly at the start) the mayo will not work as the oil and egg will split)
Note 2: for low fodmaps leave out garlic or use home made garlic oil or stir through chopped chives at end instead of adding garlic.
Cover and refrigerate until required.

Related Posts